Sweetspots Savannahs Queens
F1 Queen – Amara Aurora of Sweetspots. We are so lucky to have this girl and her sister Venus here at Sweetspots! We are very grateful that Sue of Amara Savannahs in Kentucky entrusted us with her precious girls. Aurora was named for the Roman goddess of the dawn. She is incredibly beautiful with legs a mile long, and a personality as sweet and loving as she is beautiful. We are eagerly awaiting her to bless us with babies.

F1 Queen – Amara Venus of Sweetspots. Venus was named after the Roman goddess of love. She is a little smaller than her sister Aurora, and darker in color. Her personality is just as sweet as her sister's. We hope to see kittens from her soon.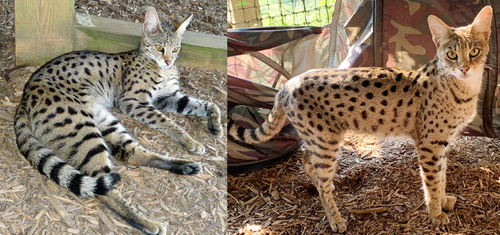 F2B Queen – Sweetspots Sienna. Sienna is from our very first savannah Kyra, a Demdar F1, and our retired stud Dalmar. She was in the last litter of kittens that Kyra had before she was retired. Sienna is my special girl, very gentle and sweet. She has gorgeous color, incredibly long legs and body (to the dismay of the studs who try to breed her), and is very vocal.



F2B Queen – Sweetspots Circe. Circe (below) is the daughter of our retired Wagati F1 girl 'Fever' and our retired stud Dalmar. Wagati F1s were/are renowned in the savannah world, and although Fever is retired from breeding she is still as sweet as she can be and still lives with us. Circe is the last kitten Fever had, and the only girl that we ever kept from her, so she is very special to us. She has warm golden color like the sun (she was named Circe after the daughter of Helios the Greek sun god). She also has gorgeous golden eyes and nice upright ears. She is a feisty girl, with a very goddess-like sassy personality.


F2B Queen – Sweetspots Naomi. Naomi is one of the last kittens produced by our retired cats F1 Samara and Dalmar. She is a nice large size with super long legs, and is very sweet (although VERY assertive and opinionated too!). She is very picky about boys…but FINALLY fell in love with our silver stud Jaeger this winter; we are hoping to see a litter of lovely F3 babies from her spring of 2023.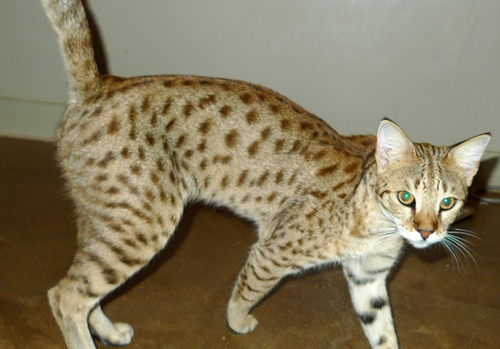 F3C Queen Sweetspots Chiara. Chiara (below) was also born at Sweetspots. Her mother is our now retired F2 Annabelle (she is another daughter of Sammy and Dalmar), and her father is our boy Thor. She has produced several litters of gorgeous SBT F4 kittens with Enzo.
F7 SBT Queen Zafarii Anjoli of Sweetspots. Anjoli is our newest girl, she is a heterozygous silver savannah. This means she carries one gene for the silver phenotype which is a dominant trait (white background with black spots). She will produce both silver and brown spotted F8 SBT kittens. Anjoli and Jaegar had a litter of 7 kittens in March 2023! See F8 page for pics and availability.