F4 SBT Kittens – updated April 1, 2021
F4 kittens are priced at $2800-3200 as pets. Email kim@sweetspotssavannahs.com for more information. Kittens come with two sets of vaccines, microchip, deworming, vet exam and a sales contract with health guarantee.
Chiara and Enzo had a beautiful litter of F4 babies born on Jan 27, 2021! There are 2 girls and 1 boy, all are beautifully spotted with gorgeous color. The girls are priced at $2400 as pets. The boy is reserved.
In the pic below, girl #2 is on the left, girl #1 on the right.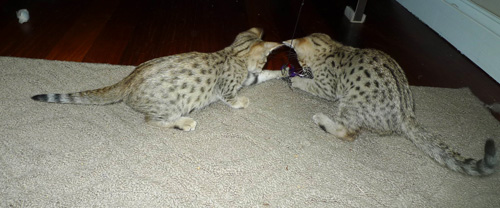 Below is girl #1, she is a little bit chubbier than her sister (she may well grow out of that) and has a light cream or pale buttery colored background with beautiful spots.
Girl #2 has a longer, leaner, taller shape, and is just a smidge more golden in color. Her spots are just as distinct, she's just a bit more fuzzy.